Turbines (Others)
6 images
Year of manufacture 1996
Location 59557 Lippstadt, Germany
Siemens 8 MVA Transformator 10500V nach 20000V von Baujahr 1996 in sehr guten einsatzbereiten zustand Bei weiteren Fragen stehe ich gerne zur Verfügung. 0049172 72 653 24 If you have any...
6 images
Year of manufacture 2013
Location 6467 Schattdorf, Switzerland
Axialventilator Korfmann ESN 9-750, DN 1000mm mit Schalt- und Steuerschrank, zusätzlich Verfügbar neuwertige Lutten 420 m1, Güteklasse A, antistatisch, schwer entflammbar - Zustand neu - Verfügbar...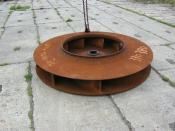 3 images
Year of manufacture 2002
Location 17506 Guetzkow, Germany
Gebläse Innendurchmesser: 1046mm Außendurchmesser: 2050mm Breite: 240mm Wellendurchmesser: 130mm Schaufelzahl: 9 Preis: 1.500 Euro
Search request
Do you want to buy a new or used Turbine? Then place a search request for Turbines as a registered user.
Register now