Skidders
8 images
Year of manufacture 1999, 1,800 h
Location 8430 Leitring / Leibnitz, Austria
80 PS. 10 Tonnen Hercules Winde, Neue Bereift. Deutz Motor der Maschine wurde erneut (1800 Betriebsstunden) Technisch sehr guter Zustand.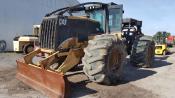 6 images
Year of manufacture 2005, 12,500 h
Location 91690 GUILLERVAL, France
Informations pneus: 35.5 X 32 BON A 40%, Référence parc: 1579818, Année de construction: 2005, Nombre dheures: 12500heures, Puissance: 161kW
1 image
Year of manufacture 1996, 8,950 h
Location 17192 Neu Schloen, Germany
Der 1455 ist mit Ritter 2x 6 Tonnen Doppeltrommel und Tragbergstütze Funk und Druckluftbrems Anlage ausgerüstet.
Search request
Do you want to buy a new or used Skidder? Then place a search request for Skidders as a registered user.
Register now