Power boxes
1 image
Year of manufacture 2000
Location 09619 Mulda, Germany
Krananschlusskasten Mehrfach vorhanden! Versand möglich! EZ nicht bekannt --->machinesup.de
2 images
Year of manufacture 2000
Location 09619 Mulda, Germany
Zähleranschlusssäule/ Zähleranschlusskasten MEHRFACH vorhanden!! Versand möglich. Weitere Informationen auf Anfragen!
9 images
Year of manufacture 2013
Location 09599 Freiberg, Germany
Verteilerkasten 630 A 1x Zugang 4x Abgang Weitere Bilder und Informationen gern auf Anfrage. Versand möglich!
1 image
Year of manufacture 2005
Location 09619 Mulda, Germany
Zähleranschlußsäule, mehrfach vorhanden, Versand auf Anfrage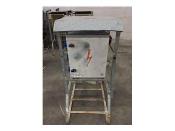 4 images
Year of manufacture 1990
Location 5145 RG WAALWIJK, Netherlands
Search request
Do you want to buy a new or used Power box? Then place a search request for Power boxes as a registered user.
Register now