Gas technology (Others)
3 images
Year of manufacture 2000
Location 42853 Remscheid, Germany
Elektroheizung 3000 W, zum Beispiel für Gasstationen, BKS-Staub-Siloanlagen, Treibstofflager etc. Kontakt 0171-4616095
9 images
Year of manufacture 2011, 18,500 h
Location 27003 Lugo, Spain
6 images
Year of manufacture 2015
Location 2604 Theresienfeld, Austria
Preis: 700,00 + 20% Mwst Gasflaschen Lagerbox, Käfig, verzinkte Ausführung, mobile Version, BJ 2015, neuwertig Besichtigung nach Vereinbarung 35km südlich von Wien im Gewerbepark Theresienfeld
5 images
Year of manufacture 2000
Location 59269 Beckum, Germany
Deutz/ MWM Single Generator , 608 kVA, 400/231 Volt About Buildingyear not sure!
2 images
Year of manufacture 1989
Location 86489 Deisenhausen, Germany
Es handelt sich um mehre Wärmewellenheizsystem Typ Comet 28/D/F/ST/MK3 mit 28 KW leistung - Versorgung mit Flüssiggas zum Beheizen von Hallen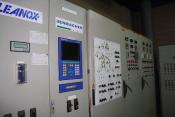 5 images
Year of manufacture 1997
Location 43205 REUS , Spain
WIR BIETEN EIN BHKW MODUL JMS 316GS AN. MIT 3 MOTOREN. MOTOR Nr. 1+2 J5784 Baujahr: 1997 KW: 827 MOTOR Nr 3 JMS 612 GS-N.L. Baujahr: 1999 KW: 1464
Search request
Do you want to buy a new or used Gas technology? Then place a search request for Gas technology as a registered user.
Register now