Mini excavators
1,265
search results exist
8 images
Year of manufacture 2010
Location 64385 Reichelsheim, Germany
9 images
Year of manufacture 2011, 1,275 h
Location 64385 Reichelsheim, Germany
8 images
Year of manufacture 2010, 2,160 h
Location 64385 Reichelsheim, Germany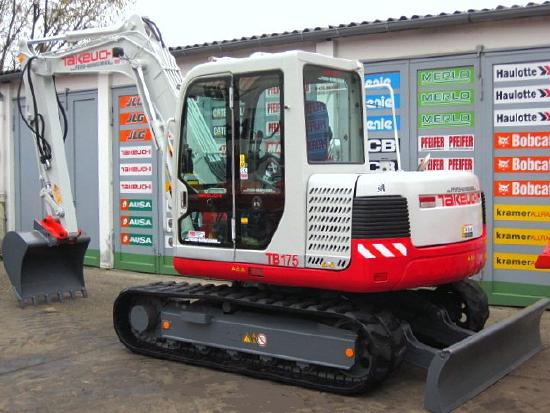 15 images
Year of manufacture 2005, 3,108 h
Location 64658 Fürth (Hessen), Deutschland, Germany
4 images
Year of manufacture 2012, 1,300 h
Location 30880 Laatzen/Rethen, Germany
2 images
Year of manufacture 2016, 500 h
Location 38889 Blankenburg, Germany
7 images
Year of manufacture 2012, 2,700 h
Location 39179 Barleben, Germany
5 images
Year of manufacture 2012, 3,000 h
Location 39576 Stendal, Germany
3 images
Year of manufacture 2015, 1,400 h
Location 39179 Barleben, Germany
2 images
Year of manufacture 2017, 730 h
Location 39179 Barleben, Germany
2 images
Year of manufacture 2017, 700 h
Location 38889 Blankenburg, Germany
2 images
Year of manufacture 2016, 450 h
Location 38889 Barleben, Germany
Search request
Do you want to buy a new or used Mini excavator? Then place a search request for Mini excavators as a registered user.
Register now
MINI EXCAVATORS ON MACHINERYPARK
Used mini diggers for sale on Machinerypark, the international online marketplace where you'll find the best mini excavators brands as Kubota, Takeuchi, Yanmar and JCB Find the mini digger you like and contact the seller directly. On our marketplace you'll always find the email address and the phone number of the advertiser, so that you can discuss with him price and conditions of the used mini excavator for sale that you like.
MINI DIGGERS FOR SALE : SMART FILTERS FOR YOUR RESEARCH
We have many used mini excavators offers, so Machinerypark allows you to save time and find the best mini digger for you, providing you fast and smart filters that will grant you to find only the mini excavators offers more suited for your needs. You can filter our used mini diggers for sale like Hitachi, Volvo, Bobcat and Caterpillar by model, year of construction, price and manufacturer.
USED MINI EXCAVATORS : PUBLISH YOUR ADVERTISEMENTS
If you want to advertise your used mini excavator on our international marketplace, there is a good news for you! You can try our service for two months free of charge and without commitment! Create a free account, put your direct contacts, place your offers and advertise your mini diggers in the easiest way!
USED MINI DIGGER : INSERT YOUR REQUEST
As a user, you can search for any mini diggers for sale on Machinerypark for free and without making an account. But if you can't find the used mini digger you're looking for, you might be interested in another free service we offer. Creating an account as potential customer, you can place your request for the used mini excavator you need and you'll be contacted by the seller who has that kind of mini excavators.
MINI EXCAVATORS FOR SALE : BEST INTERNATIONAL BRANDS ON MACHINERYPARK
MachineryPark is one of the leading marketplaces for the international trade in construction machinery as mini excavators. Placing your offer for used mini diggers on Machinerypark, will allow it to be seen and evaluated by thousands of users that every day are searching for mini excavators for sale, who trust our online international marketplace not only because they know that since 2003 we've only quality offers advertised by authorized sellers and reliable companies, but also because they know that here you can find the best used mini diggers offers for the best brands as Kubota, Bobcat, JCB, Caterpillar, Volvo, Komatsu and many others!