Log transporter - Semitrailers
6 images
Year of manufacture 2008, 490,000 km
Location 88500 Mirecourt Lorraine, France
Informations pneus: TRR 385x65R22.5 à l'avant et 13R22.5 à l'arrière - Remorque 315x80R22.5 Jumelé - , Essieux: 6x4, Type de boîte de vitesses: Manuelle, Suspension: Mécanique, Norme Euro:...
6 images
Year of manufacture 2016
Location 36151 Burghaun, Germany
EBERT KHS 32 Kurzholzsattel, zul. Gesamtgewicht: 32.000 kg, Sattellast: 12.000 kg, Breite: 2.550 mm, Achslast hinten: 20.000 kg, Nutzlast ca.: 26.250 kg, Leergewicht ca.: 5.750 kg (inklusive 6...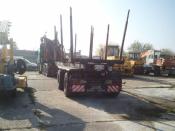 6 images
Year of manufacture 1992
Location 67063 Ludwigshafen, Germany
Langholzauflieger zul. Gg.: 30000 kg-40000 kg, Verlängerung auf 16,20 m, Verbreiterung auf 4m, 2-Achser Luftgefedert.
Search request
Do you want to buy a new or used Log transporter - Semitrailer? Then place a search request for Log transporter - Semitrailers as a registered user.
Register now