Log transporter - Semitrailers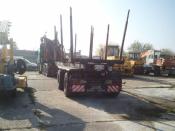 6 images
Year of manufacture 1992
Location 67063 Ludwigshafen, Germany
Langholzauflieger zul. Gg.: 30000 kg-40000 kg, Verlängerung auf 16,20 m, Verbreiterung auf 4m, 2-Achser Luftgefedert.
6 images
Year of manufacture 2017
Location 36151 Burghaun, Germany
EBERT KHS 32 Kurzholzsattel, zul. Gesamtgewicht: 32.000 kg, Sattellast: 12.000 kg, Breite: 2.550 mm, Achslast hinten: 20.000 kg, Nutzlast ca.: 26.250 kg, Leergewicht ca.: 5.750 kg (inklusive 6...
Search request
Do you want to buy a new or used Log transporter - Semitrailer? Then place a search request for Log transporter - Semitrailers as a registered user.
Register now