Inclined Elevators
4 images
Year of manufacture 1986
Location 48565 Steinfurt, Germany
Klaas Dachdeckeraufzug 26m, ZGG 1300kg, in gutem, einsatzfähigem Zustand Angaben sind ohne Gewähr.Änderungen und Zwischenverkauf vorbehalten.
3 images
Year of manufacture 1991
Location 48565 Steinfurt, Germany
Boecker, Typ HD 22 GG 1500 kg Bauj.1991 einsatzbereit
5 images
Year of manufacture 1997
Location 96328 Küps, Germany
Voll funktionstüchtiger Dachdeckeraufzug Albert Böcker HD26K/1-5, Baujahr 1997, siehe Bilder.
3 images
Year of manufacture 1998
Location 5145 RG WAALWIJK, Netherlands
No images
Year of manufacture 1991
Location 02779 großschönau, Germany
Steinweg Toplift Universal komplett mit Endschalter mit Kabel, Stecker, Einspeisung, Arbeitshöhe bis 21,0m Zubehör: Fahrschlitten, Förderschlitten, Schuttsilo, Kippkübel 80Ltr., Uni Pritsche,...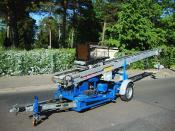 6 images
Year of manufacture 1999
Location 12439 Berlin Niederschöneweide, Germany
Bauaufzug Klaas 21/6 KA Förderhöhe: 21m, Tragfähigkeit: 200kg, Knickschiene, Honda Benzinmotor 13PS m. E-und Hand Start, 4-fach Abstütung, PKW- Zugöse, BPW- Achse, 3 Ausschübe, Kniuckschiene,...
Search request
Do you want to buy a new or used Inclined Elevator? Then place a search request for Inclined Elevators as a registered user.
Register now