Tools (Construction equipment)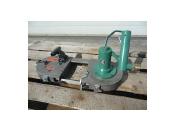 1 image
Year of manufacture 2015
Location 6373 CD Landgraaf, Netherlands
Druckluft Bandsäge Spitznas Modell: 4" x 4" Modell: 4"x 7" Modell: 7"x 7" Ungebraucht nach CE Pneumatic Band Saw Spitznas not used. www.ihnbv.com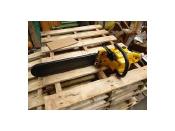 2 images
Year of manufacture 2015
Location 6373 CD Landgraaf, Netherlands
Spitznas Druckluft Kettensäge für Bergbau 5 1029 0010 ATEX Spitznas pneumatic Chain Saw for Mining 5 1029 0010 ATEX
1 image
Year of manufacture 1998
Location 88339 Bad Waldsee, Germany
Vogt Lanze Typ VL 3,5 mit Stahlrohr gerade, Stahlrohr gebogen 45 Grad, Messingspitze, Gummischutzkappe, Transportkoffer-Metall Benötigte Luftmenge: 3,5 cbm/min bei 7 Bar, NEUWERTIG nur leicht...
1 image
Year of manufacture 2001
Location 88339 Bad Waldsee, Germany
Altlas-Copco Handsäge, Typ Kango KS 26, Baujahr 2001, leicht gebraucht, Leistungsaufnahme: W 1900, Gewicht: 13 mit Sägeblättern, Schnitttiefe: max 260 mm Nicht das richtige gefunden? Rufen Sie uns...
Search request
Do you want to buy a new or used Tool? Then place a search request for Tools as a registered user.
Register now