Mobile bridges (Construction equipment)
1 image
Year of manufacture 2008, 1 h
Location BE-8790 WAREGEM, Belgium
== Informationen auf Deutsch == Optionen: 2 Ventile Hubkapazität: 10.000 kg Seriennummer: LR-001 Referenznummer: 4593GC == Information in English == Options: 2 valves Lifting capacity: 10.000 kg...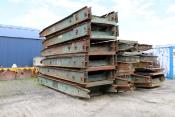 2 images
Year of manufacture 2000
Location 8218 nx lelystad, Netherlands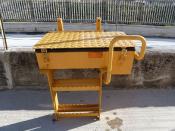 3 images
Year of manufacture 2008
Location 62020 Serrapetrona, Italy
Ladder with tool box for Volvo L120F wheel loader, new. We speak Italian, English, Russian, German, French and Spanish languages.
Search request
Do you want to buy a new or used Mobile bridge? Then place a search request for Mobile bridges as a registered user.
Register now