Case Poclain Mobile excavators
No images
Year of manufacture 1999, 8,100 h
Location 54518 Hupperath, Germany
Weitere Daten und Bilder auf Anfrage!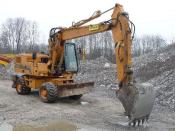 6 images
Year of manufacture 1999, 6,990 h
Location 9470 Buchs SG, Switzerland
Typ. Case Poclain 988P Mobilbagger 1. Inverkehrsetzung März.1999 Betriebsstunden: 7000 Std. Gewicht: 20t Abstützung : Planierschild vorne Pratzen hinten Hammer u. Greiferverrohrung...
Search request
Do you want to buy a new or used Case Poclain Mobile excavator? Then place a search request for Mobile excavators as a registered user.
Register now