Air Dehumidifier
1 image
Year of manufacture 2014
Location 48431 Rheine, Germany
To buy
1,095 EUR
To rent
From 14.00 EUR per day
Neugeräte aus August 2014 (kurzzeitiger Mieteinsatz im August)

3 images
Year of manufacture 1999
Location 08233 Treuen, Germany
Remko Luftentfeuchter 60E Luftleistung: 765m³/h Kühlleistung: 2,86kW Entfeuchterleistung: 64l/h Elektroanschluss: 230V/50Hz ACHTUNG!! 5 Stück verfügbar Für...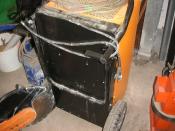 1 image
Year of manufacture 1998, 450 h
Location 39261 Zerbst, Germany
450 m³/h, sehr guter Zustand
Search request
Do you want to buy a new or used Air Dehumidifier? Then place a search request for Air Dehumidifier as a registered user.
Register now