Zeppelin Mobile excavators
4 images
Year of manufacture 2001, 8,372 h
Location 50126 Bergheim, Germany
Schnellwechsler "Schaeff",Korte-Greifer
13 images
Year of manufacture 1992, 10,000 h
Location 89278 Nersingen, Germany
Paal-Hammer, Löffel mit Zähnen (800 mm), hydr. Planierschild hinten, hydr. Pratzen-Abstützung vorn, Originallackierung, guter, voll einsatzbereiter Zustand
6 images
Year of manufacture 1983, 7,500 h
Location 69123 Heidelberg, Germany
7 images
Year of manufacture 1998, 10,500 h
Location 01558 Großenhain, Germany
Mobilbagger Zeppelin ZM 100, SW, 1 Löffel, 10500 Std., Besichtigung bitte nur nach Absprache. Irrtümer und Zwischenverkauf vorbehalten! Inzahlungnahme und Ankauf von Baumaschinen möglich. Weitere...
10 images
Year of manufacture 1995
Location 49828 Neuenhaus, Germany
CE-Maschine, 8fach-Bereifung, Schild, 2-Schalen-Greifer, alle Angebote freibleibend zzgl. gesetzlicher MwSt., ab Standort, es gelten unsere AGB´s/ Irrtümer vorbehalten!
9 images
Year of manufacture 1995, 10,240 h
Location 10117 Berlin, Germany
Planierschild SWE TL 1200mm Hammerhydraulik Greiferhydraulik
9 images
Year of manufacture 1992, 14,300 h
Location 33 LJUBLJANA, Slovenia
hydr. Schnellwechsler 1x loeffel 100cm 1x hidr.loeffel 180cm Verstellausleger Schildabstützung Vollverrohrung (Hammer-, Greifer) Ohne greifrer e-mail debevec.sp@gmail.com
6 images
Year of manufacture 1990, 11,000 h
Location 46325 Borken, Germany
mit Tieflöffel
1 image
Year of manufacture 1991
Location 54518 Hupperath, Germany
Weitere Daten auf Anfrage.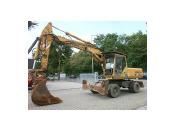 6 images
Year of manufacture 1994, 9,888 h
Location 47229 Duisburg, Germany
Vollgummireifen, Grundausleger hydraulisch, Abstützplanierschild, 2 Pratzen, Hammerleitung, Greiferleitung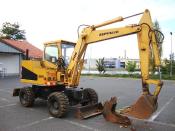 6 images
Year of manufacture 1984, 5,500 h
Location 12439 Berlin Niederschöneweide, Germany
Hammer- /Greiferverrohrung, Schiebe-/Abstützschild, Knickmatik, 1 Tieflöffel 300-er m. Zähne, 1 Tieflöffel 750-er mit Zähne, 1 Grabenräumlöffel: 1200-er, Einsatzgewicht: mit Schiebeschild und...
Search request
Do you want to buy a new or used Zeppelin Mobile excavator? Then place a search request for Mobile excavators as a registered user.
Register now