Winches
3 images
Year of manufacture 2016
Location 25024 Leno, Italy
The best hoist in the market ,for the best customers. Various model: Diesel, Gasoline, Electric
9 images
Year of manufacture 2014
Location 63-200 Jarocin, Poland
year: 2014, 400 meters rod (diameter 16 mm), computer with recording on the SD card, time working: 4020 mth, telescopic deflection boom, swivel , 2 rodzaje haków (kulowy i oczkowy) Price: 37.500,00...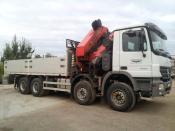 5 images
Year of manufacture 2006, 62,884 km
Location 10020 Zagreb, Croatia
Palfinger 56002E, 15,8m - 2650 kg, 4,4m - 11050 kg, 12/2006g.
Search request
Do you want to buy a new or used Winch? Then place a search request for Winches as a registered user.
Register now