Winches
7 images
Year of manufacture 2011, 116 h
Location 2260 Westerlo, Belgium
5 ton pull 1000 m cable as new mahehole pull eq. provided
3 images
Year of manufacture 2016
Location 25024 Leno, Italy
The best hoist in the market ,for the best customers. Various model: Diesel, Gasoline, Electric
11 images
Year of manufacture 2015, 30 h
Location 34147 Trieste, Italy
May be full of accessories for laying cables. List of accessories and catalog description attached. Short description: Pulling winch fit for underground cable installations, hydraulically powered...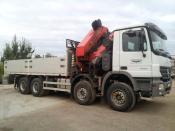 5 images
Year of manufacture 2006, 62,884 km
Location 10020 Zagreb, Croatia
Palfinger 56002E, 15,8m - 2650 kg, 4,4m - 11050 kg, 12/2006g.
2 images
Year of manufacture 1990
Location 6433 Hoensbroek, Netherlands
3 mal forhanden 2x 2000 dan 1 mal 2500 dan
Search request
Do you want to buy a new or used Winch? Then place a search request for Winches as a registered user.
Register now