Volvo Graders
4 images
Year of manufacture 2003, 9,879 h
Location 02100 Neuville St Amand, France
Référence parc: 201663, Année de construction: 2003, Nombre dheures: 9879heures, Poids à vide: 27000kg
6 images
Year of manufacture 2011, 10,316 h
Location 5505 JA Veldhoven, Netherlands
== Informationen auf Deutsch == Optionen: Geschlossene Kabine, Klimaanlage, Originalfarbe Leistung: 163 kW (221 PS) Verwendungszweck: Bauwesen Motormarke: Volvo D7E GBE3 CE-Kennzeichnung: ja...
6 images
Year of manufacture 2001, 8,900 h
Location 74100 ETREMBIERES, France
Essieux: 6x4, Usure pneus avant: 80%, Usure pneus arrière: 80%, Nombre de roues motrices: 4, Référence parc: 571, Année de construction: 2001, Nombre dheures: 8900heures, Poids à vide: 17500kg
6 images
Year of manufacture 2007, 6,438 h
Location 40011 ANZOLA DELL'EMILIA, Italy
Motor grader in ottime condizioni, completo di cabina Rops-Fops, aria condizionata, lama con tagliente nuovo. Pneumatici 20.5R25.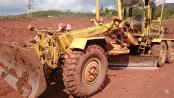 4 images
Year of manufacture 1982
Location 71706 Markgröningen, Germany
VOLVO BM 3500
6 images
Year of manufacture 1973
Location 89-100 Trzeciewnica, Poland
5 images
Year of manufacture 2008, 5,440 h
Location 94301 Stúrovo, Slovakia
Aus erste Hand. 1x Frontschild 2800 mm Heckaufreisser / Ripper mit 3 Zähnen Klimaanlage VOLVO 6-Zylinder Motor mit 167 KW Gesamtgewicht 21.770 Kg erster Lack, keine Nachlackierungen Maschine ist...
Search request
Do you want to buy a new or used Volvo Grader? Then place a search request for Graders as a registered user.
Register now