Lift Engines (Spare parts)
1 image
Year of manufacture 2008
Location 53894 Mechernich, Germany
Gebraucht, funktionsfähig. Ausbau aus Unfallfahrzeug. Bei weiteren Fragen wenden Sie sich an mich.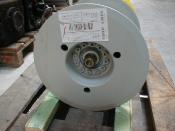 2 images
Year of manufacture 2012
Location 64646 Heppenheim, Germany
Siebenhaar Hubwerk, Neu, für Krupp KMK 2025
Search request
Do you want to buy a new or used Lift Engine? Then place a search request for Lift Engines as a registered user.
Register now