Pallet cages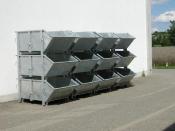 5 images
Year of manufacture 2017
Location 88477 Bußmannshausen, Germany
--Kleincontainer feuerverzinkt-- Länge 1,6m - Breite 1,06m - Höhe 0,7m - Fassungsvermögen ca. 1.000l - stabile Kastenrahmen aus 80x30mm Vierkantrohr - bodenverstärkt 4 Streben 80x30mm - seitlich 6...
4 images
Year of manufacture 2000
Location 65933 Frankfurt am Main, Germany
Blechkisten, Transportbehälter, Lagerbehälter, Gitterboxen, Stapelgestelle, Barellen diverse Maße Bitte fragen Sie Sonderposten WL-19684 an.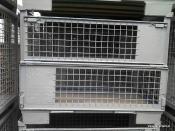 14 images
Year of manufacture 2011
Location 46-220 Byczyna, Poland
Search request
Do you want to buy a new or used Pallet cage? Then place a search request for Pallet cages as a registered user.
Register now