Machinerypark ID

VKRA-6292-JC

Manufacturer

Model

CR-130Rf

Category

Mobile crane

Condition

Used

Year of manufacture

2020

Location

47249 Duisburg
Germany
---
---
Technical data
Operating hours

450

Mileage

1,800 km

Power

175 HP

Weight

13,815 kg

Warranty

Yes

CE standard

Yes

General inspection

11/2023

Carrying capacity

13,000 kg

Lift height

30,000 mm

Working height

30,000 mm

Range

24 m

Colour

Yellow
Dimensions
Length

744 cm

Width

199 cm

Height

285 cm
Engine
Fuel

Diesel

Engine type

Diesel

Emission class

Euro4
Manufacture KATO CR-130Rf
Crane type Mobile crane / City crane
Technical details:
Max. loading 75% 13 t x 1,7 m
Pick & Carry 3,0 t x 2,0 m
Max. lifting height 30,3 m
Max. working range 22,5 m
DIMENSIONS & Weights
Crane length 7.465 mm
Crane width 1.995 mm
Crane height 2.870 mm
Crane superstructure
Telescopic boom 5,3 m - 24,0 m fully hydraulic
Swing away jib 3,6 m - 5,5 m, hydr. adjustable +5° - +60°
Assambly jib with swivel hook
2x winches
Safe load indicator KATO ACS (touch-screen)
4-sheaves hook block max. 13 t
Single line hook max. 1,8 t
Working light, roatating lights,
Crane chassis
Drive 4 x 4 x 4
Outriggers 4-point supporting (variable supporting)
Engine HINO-Diesel, Tier 4, max. 62 km/h
Tire size 274/80 R22,5 151E
Cabin 1-man cabin
lateral ascent, storage space for supporting plates,
electric adjustable mirrors, working lights, stroage box,
underride wedges, air condition, rear view camera,
winch camera, side view camera, supporting plates,
German TÜV and UVV new before delivery
EXW DUISBURG, available by arrangement
Purchase price on request
Seller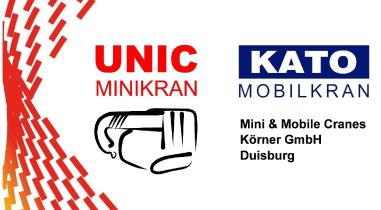 Mini & Mobile Cranes Körner GmbH
Ms Dietlind Overhoff
Alte Kaserne 23
47249 Duisburg
Germany
Member for 16 years
Commercial vendor
Location
State: North Rhine-Westphalia
Near: Mülheim, Oberhausen.