Wood circular saws (Circular Saws)
7 images
Year of manufacture 1998
Location 09619 Mulda, Germany
Hersteller: Avola Typ: ZBV 500-6 Baujahr: unterschiedliche 400V/ 50HZ/ 10,5A/ 32A-Stecker Blattdurchmesser: 350 - 500 mm Hoehenverstellbar und mit Werkzeug MEHRFACH vorhanden! Versand bieten wir...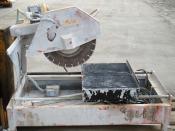 2 images
Year of manufacture 2000
Location 94081 Fürstenzell, Germany
Baujahr unbekannt Verwandte Begriffe: Tischsäge, Säge, Schneidgerät, BS350,
7 images
Year of manufacture 2006
Location 410223 Bucharest, Romania
Squaring capacity with carriage and extended stop 3200x3200 mm Main blade rotating speed 350 mm Cutting height at 90°/45° 118/81 mm Main blade motor power Hz 50 / 7 kW / 9,5 HP Scoring...
Search request
Do you want to buy a new or used Wood circular saw? Then place a search request for Wood circular saws as a registered user.
Register now