Bulldozers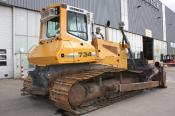 10 images
Year of manufacture 2013, 5,408 h
Location SG18 8QB Biggleswade, United Kingdom
• Straight blade with spill guard, Drawbar • Air conditioned cab, Radio, Operator seat air suspended • Rotating beacon • Trimble ready • New sprockets & chains • The machine will be serviced and...
15 images
Year of manufacture 2014, 72 h
Location 32351 Stemwede, Germany
Top-offer, only 72 hours - Ex - Demo - Incl. reversible fan, AC - air condition, prepared automatic blade control Leica... - offer - offer - offer - - Special price only till 10.05.2017 available...
2 images
Year of manufacture 1986, 4,298 h
Location 68169 Mannheim, Germany
CAT D6D Laufwerk 70% original Lack Tel. 0163 628 28 59
5 images
Year of manufacture 1984, 8,500 h
Location 68169 Mannheim, Germany
SerNr. 330910403 Einzahn Heckaufreißer
6 images
Year of manufacture 1997, 7,400 h
Location 2495-401 Fátima, Portugal
Locomoção: Sobre rastos, Largura de lâmina: 3.26m, Lâmina: Semi-U, Ripper: Um dente, Ano de construção: 1997, Número de horas: 7400Horas
5 images
Year of manufacture 2012, 1,300 h
Location 3100 St. Pölten, Austria
24,5 to. Aufreißer, Klima, 2D Lasersteuerung Trimble GCS 900 und 3 D Steuerung vorbereitet, Maschine neuwertig
3 images
Year of manufacture 2008, 5,250 h
Location 3100 St. Pölten, Austria
20t, 6 Wegeschild, 3 Zahnheckaufreißer, Klima, Laser Dualsteuerung Spetra Precision - Apache CB 30/52 mit 2 Masten,
6 images
Year of manufacture 1985, 9,000 h
Location 3100 St. Pölten, Austria
7,2 to,, Erstbesitz, Originalzustand
6 images
Year of manufacture 2009, 6,400 h
Location 3100 St. Pölten, Austria
20t, 6 Wegeschld mit Klappecken, 3 Zahnripper, Klima, Vorbereitung für 3 D Steuerung
5 images
Location 54000 NANCY, France
4 images
Year of manufacture 2007, 7,450 h
Location 2750 Ballerup/Kopenhagen, Denmark
6 images
Year of manufacture 1978
Location 2750 Ballerup/Kopenhagen, Denmark
Search request
Do you want to buy a new or used Bulldozer? Then place a search request for Bulldozers as a registered user.
Register now
BULLDOZERS ON MACHINERYPARK
Used bulldozers for sale on Machinerypark, the international online marketplace where you'll find the best bulldozer brands as Caterpillar, Komatsu, Liebherr and Case Find the used bulldozer you like and contact the seller directly. On our marketplace you'll always find the email address and the phone number of the advertiser, so that you can discuss with him price and conditions of the used bulldozers that you like.
BULLDOZER FOR SALE : SMART FILTERS FOR YOUR RESEARCH
We have many used bulldozers offers, so Machinerypark allows you to save time and find the best bulldozer for sale for you, providing you fast and smart filters that will grant you to find only the bulldozers offers more suited for your needs. You can filter our used bulldozers for sale like Hanomag, Fiat-Allis, Dressta and New Holland by model, year of construction, price and manufacturer.
USED BULLDOZERS : PUBLISH YOUR ADVERTISEMENTS
If you want to advertise your bulldozer on our international marketplace, there is a good news for you! You can try our service for two months free of charge and without commitment! Create a free account, put your direct contacts, place your offers and advertise your used bulldozers in the easiest way!
BULLDOZERS FOR SALE : INSERT YOUR REQUEST
As a user, you can search for any bull dozer for sale on Machinerypark for free and without making an account. But if you can't find the used bull dozers you're looking for, you might be interested in another free service we offer. Creating an account as potential customer, you can place your request for the used bulldozer you need and you'll be contacted by the seller who has that kind of used bulldozers.
USED BULL DOZER FOR SALE : BEST INTERNATIONAL BRANDS ON MACHINERYPARK
MachineryPark is one of the leading marketplaces for the international trade in construction machinery as the bulldozer. Placing your offer for used dozers on Machinerypark, will allow your offer to be seen and evaluated by thousands of users that every day are searching for bull dozers for sale, who trust our online international marketplace not only because they know that since 2003 we've only quality offers advertised by authorized sellers and reliable companies, but also because they know that here you can find the best used bulldozer for sale offers for the best brands as Kubota, Bobcat, JCB, Caterpillar, Volvo, Komatsu and many others!